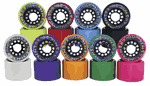 Roller skate wheels come in many sizes and hardness. Outdoor wheels have a softer wheel. A softer wheel is normally anything under 90A
Indoor roller skate wheels usually have a hardness of 90A or higher. Rec wheels are better for turns and speed wheels are as the name indicates best for speed skating.
The larger the wheel the faster the speed. You will be able to find wheels 57mm, 62mm, (which is the average size), 65mm and 70mm. Children who are just beginning to learn to skate should choose a small wheel.
WHY CHOOSE US?
Because we promise you:
1. We will take great care of your order start to finish.
Read what our happy customers have to say.
2. We will ship out your order promptly. Usually it is sent out the next day an order is placed. If placed early in the morning, the order could possibly go out that day.
3. We will send out your order to arrive at your destination no longer than 4 to 5 business days from the date it is sent out in continental United States. Most orders take just 1 to 3 days to arrive at your home. You can request Next Day or 2nd Day delivery at an additional fee as shown on the order page.
4. We will not charge you a restocking fee for any item returned.
The most important promise of My Roller Skate World
We will give you the
ABSOLUTE BEST
customer service!